Super Bowl 5k "Donate 1 Yard"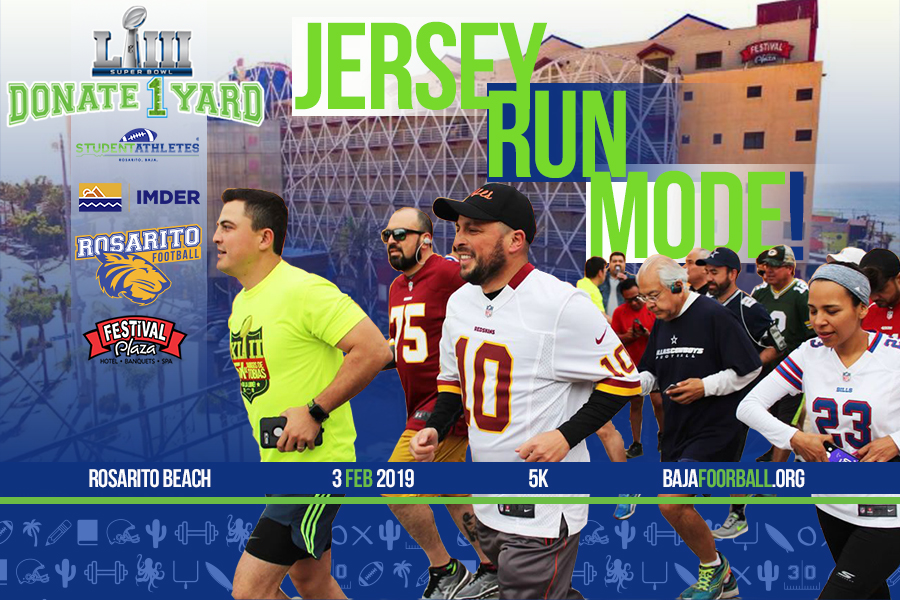 Cooperacion voluntaria/Open Donation
Where:Hotel Festival plaza, Rosarito Baja California, México
When: 3 Febrero 2019 8:00 am - SuperBowl Day
Why: Donate 1 Yard campaign
Student-Athletes A.C. de Playas de Rosarito te invita a participar en nuestra carrera, trote o caminata de 5km por la mañana previa al máximo evento de nuestro deporte del futbol americano que es el "SuperBowl 2019"
Ponte tu jersey y demuestra tu pasión por tu equipo favorito y diviértete quemando algunas calorías apoyando nuestra causa de recaudar fondos para la construcción del primer campo de fútbol americano en nuestra comunidad. habrá 300 medallas a los primeros en cruzar la meta, rifas y certificados de regalo entre los participantes; te esperamos!
Para conocer más visita www.bajafootball.org *Donación minima de 100 pesos para tener derecho a recibir medalla
* Hidratación y fruta para todos los participantes.
* Salida y meta enfrente de hotel festival plaza en Blvd. Benito Juarez 8:00 Am.
English Student-Athletes A.C. (Non-Profit) from Rosarito, Baja. Invites you to participate in our 5k race, jogs or walk in the morning prior the "SuperBowl 2019" Put on your jersey and show your passion for your favorite team and have fun burning some calories supporting our cause to raise funds for the construction of the first football field in our community. there will be 300 medals to the first ones to cross the finish line, raffles and gift certificates among the participants; We will wait for you! Race tiket number is an open donation. For more info please visit www.bajafootball.org
*Minimum donation of 5 dlls to qualify for a medal.
* hydration for all participant
* Start and finish in main Blvd. in front of Hotel festival Plaza. 8:00 am